IPv4
Route object for 196.192.48.0/20 with AS327800 as the origin.
---
Step 1) Check the maintainer used for the mnt-lower in the inetnum and the mnt-routes in the aut-num objects are the same.
The parent inetnum object:
The aut-num object:
inetnum: 196.192.48.0 - 196.192.63.255
netname: Example-net
descr: Example provider inetnum
country: MU
org: ORG-BTL1-AFRINIC
admin-c: EC16-AFRINIC
tech-c: EC16-AFRINIC
status: ASSIGNED PI
notify:

This email address is being protected from spambots. You need JavaScript enabled to view it.


mnt-by: AFRINIC-HM-MNT
mnt-lower: EXAMPLE-1-MNT
changed:

This email address is being protected from spambots. You need JavaScript enabled to view it.

20180709
source: AFRINIC
parent: 196.0.0.0 - 196.255.255.255
aut-num: AS327800
as-name: example-AS
descr: Example Provider aut-num
status: ASSIGNED
org: ORG-BTL1-AFRINIC
admin-c: ec16-afrinic
tech-c: ec16-afrinic
notify:

This email address is being protected from spambots. You need JavaScript enabled to view it.


mnt-routes: EXAMPLE-1-MNT
mnt-by: AFRINIC-HM-MNT
changed:

This email address is being protected from spambots. You need JavaScript enabled to view it.

20180709
source: AFRINIC
If the mnt-lower and the mnt-routes are not the same or is missing in the inetnum/inet6num or aut-num, please email us at This email address is being protected from spambots. You need JavaScript enabled to view it. to have it updated.
You may use the whois web interface(http://whois.afrinic.net) to view the inetnum/inet6num and aut-num. An example to search for 196.192.48.0/20 is shown below;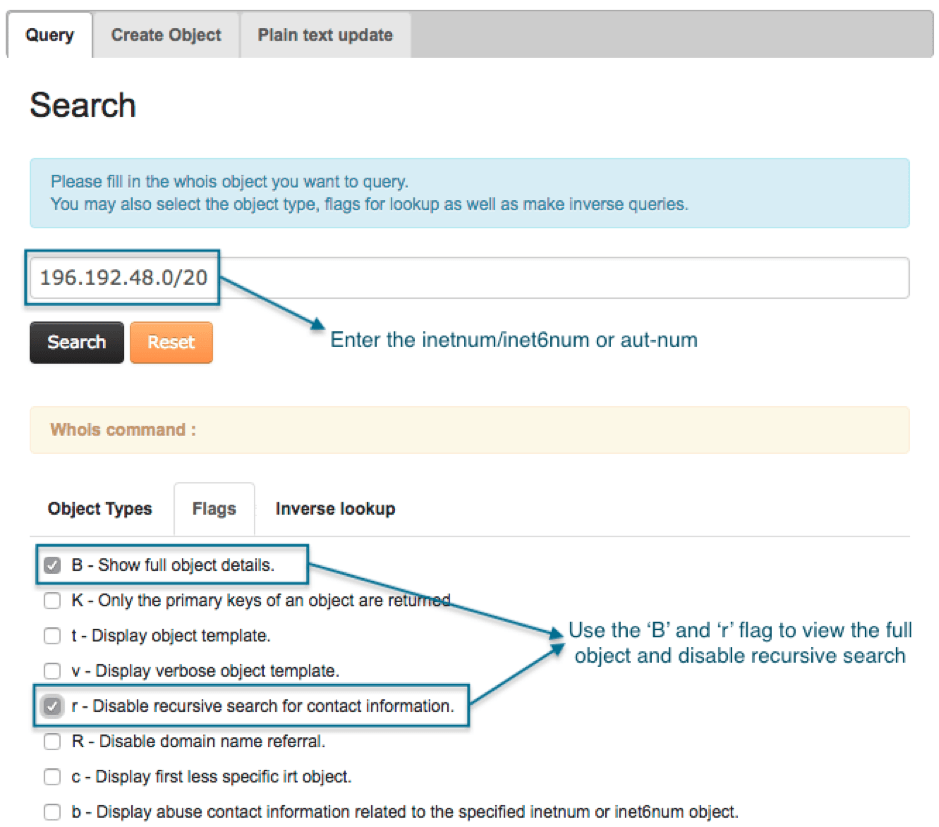 The search result will look like the following;
Step 2) Get the route object template and fill in the mandatory attributes
route: 196.192.48.0/20
descr: Example Route object
origin: AS327800
mnt-by: EXAMPLE-1-MNT
changed: This email address is being protected from spambots. You need JavaScript enabled to view it.
source: AFRINIC
Note: To get the route object template, go to the AFRINIC web whois interface (http://whois.afrinic.net), click on Create Object, select 'route' and click on Load;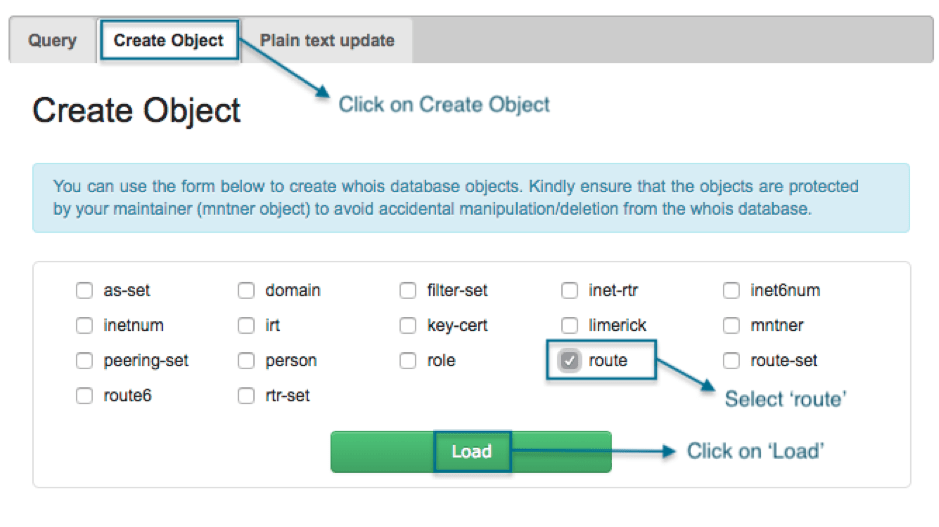 The route object template with all the mandatory attributes will be shown;
Mandatory attributes of a route object;
Route: The IPv4 prefix which will be announced
Descr: A brief description of the route object
Origin: The Autonomous System Number which will originate the IPv4 prefix
Mnt-by: The maintainer referenced as the "mnt-lower" in the inetnum object and "mnt-routes" in the aut-num object
Changed: The email address of the person managing the route objects
Source: The only possible value is "AFRINIC", which specifies the registry where the object is registered.
Step 3) Create the object
1) Using the whois web interface:

a. Fill in all the mandatory attributes in the template;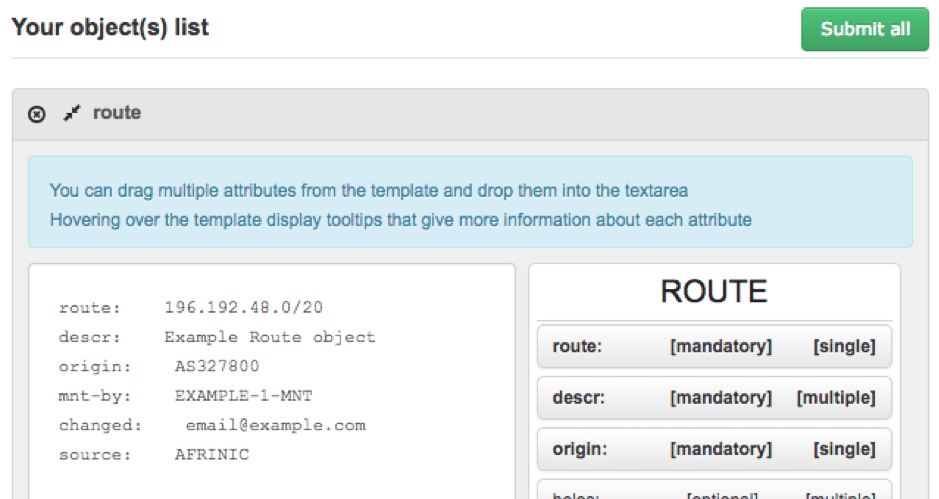 b. Enter the password for the maintainer in the password field and click on Create;In case you forgot the password, please consult our FAQ for more info on how to proceed.

Upon successful creation of the object, you will get the following message;
2. Using the email update method:
Simply email the route object with the password of the mnt-by maintainer to This email address is being protected from spambots. You need JavaScript enabled to view it.
route: 196.192.48.0/20
descr: Example Route object
origin: AS327800
mnt-by: EXAMPLE-1-MNT
changed: This email address is being protected from spambots. You need JavaScript enabled to view it.
source: AFRINIC
password: {password of the mnt-by maintainer EXAMPLE-1-MNT}
Note that the email must be sent in plain text format and not in HTML.