What is the AFRINIC Government Working Group?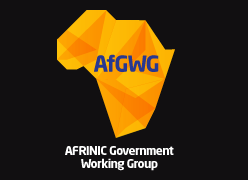 The AFRINIC Government Working Group (AfGWG) was set up in January 2010 by AFRINIC, the Regional Internet Registry (RIR) responsible for the management of IP resources in Africa, to provide a platform for open and interactive discussions between AFRINIC, African governments and ICT regulators. Given the rapid growth of the Internet and its impact on Africa's socio-economic development, it is critical that African ICT stakeholders work together to formulate, discuss and develop mechanisms and policies for the proper and effective management of Internet resources.
The AfGWG meetings are an opportunity for Governments and Regulators to take stock of current and new activities/initiatives (for example IPv6 deployment, capacity and training programmes) as well as outcomes of important meetings and negotiations at both regional and international levels. The meetings also enable the sharing of regional/international best practices and help, inter alia, in the establishment of appropriate ICT programmes to address African needs in terms of IP resources.
Objectives of the Working Group
To strengthen the collaboration between AFRINIC and African Governments and Regulators to promote sustainable and secure Internet development in Africa.
To address collaboratively the general Internet governance challenges faced within the region, particularly those related to Internet number resources.
AfGWG Focal Points
Some 30 countries have designated AfGWG focal points and it is hoped that all economies will have at least one focal point represented at the working group level. The network of focal points will serve as the main communication channel for the exchange of views and best practices.
The main objectives of the AfGWG are:
1. To strengthen the collaboration between AFRINIC and African Governments and Regulators
2. To create a dynamic framework to address
(i) General Internet Governance challenges faced within the region
(ii) Specifically those internet governance issues related to Internet Number Resources
Why attend an AfGWG meeting?
To participate in interactive discussions with regional Internet stakeholders and the community on issues such as the:
secure and sustainable Internet development in the African region
the impact that the steady growth of the Internet is having on the socio-economic development, calling for enhanced collaboration between all the stakeholders mainly policy makers in the region
to learn how IP resources are being managed in the region
Who should attend?
Government Officials dealing with ICT matters
ICT Regulators & policy makers
Regional ICT Organisations
Law Enforcement Agencies
Previous Meetings
AFGWG Meetings are by-invite only. The first AfGWG Meeting was held in January 2010 in Ebene, Mauritius. Subsequently, eleven more meetings have been held back to back with AFRINIC Public Policy Meetings:
Congo, Pointe Noire - November 2015
Mauritius, Ebene - November 2014
Djibouti, Republic of Djibouti - June 2014
Côte D'Ivoire, Abidjan - November 2013
Zambia, Lusaka - June 2013
Sudan, Khartoum - November 2012
The Gambia, Serekunda – May 2012
Cameroon, Yaoundé – November 2011
Tanzania, Dar es Salaam – June 2011
South Africa, Johannesburg – November 2010
Rwanda, Kigali – June 2010
Mauritius, Ebène - January 2010
For more information, please contact us via This email address is being protected from spambots. You need JavaScript enabled to view it.