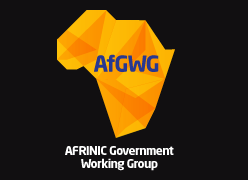 The AFRINIC Government Working Group (AfGWG) was set up in January 2010 by AFRINIC, the Regional Internet Registry (RIR) responsible for the management of IP resources in Africa.
The AfGWG is a dedicated platform for open and interactive discussions between AFRINIC, African governments, ICT regulators and Law Enforcement Authorities.
Given the rapid growth of the Internet and its impact on Africa's socio-economic development, it is critical that African ICT stakeholders work together to formulate, discuss and develop mechanisms and policies for the proper and effective management of Internet resources.
Objectives of the Working Group
To strengthen the collaboration between AFRINIC and African Governments and Regulators to promote sustainable and secure Internet development in Africa.
To address collaboratively the general Internet governance challenges faced within the region, particularly those related to Internet number resources.
Why attend an AfGWG meeting?
The AfGWG meetings are an opportunity for Governments, Regulators and Law Enforcement Authorities to take stock of current and new activities/initiatives (for example IPv6 deployment for Government, Internet Measurement for Regulators, capacity and training programmes) as well as outcomes of important meetings and negotiations at both regional and international levels.
The meetings also enable the sharing of regional/international best practices and help, inter alia, in the establishment of appropriate ICT programmes to address African needs in terms of IP resources.
Who should attend AFGWG meeting?
The AFGWG Meetings are open to:
Government Officials dealing with ICT matters
ICT Regulators & policymakers
Regional ICT Organisations
Law Enforcement Agencies
Invitations to AFRINIC Government Working Group (AfGWG) meetings are mainly sent to contacts registered in the government discussion mailing list (This email address is being protected from spambots. You need JavaScript enabled to view it.)
How to register on AFGWG Discussion Mailing list?
AFRINIC manages the mailing list (This email address is being protected from spambots. You need JavaScript enabled to view it.) that is open to anybody who has an interest in the activities of AFRINIC Government Working Groups.
There are three ways to subscribe to AFRINIC Government Working Group:
Filling the online form which can be obtained by clicking the link https://lists.afrinic.net/mailman/listinfo/afgwg-discuss
By email: you can send a request to

This email address is being protected from spambots. You need JavaScript enabled to view it.

, with the Header word "subscribe to AFRINIC Government Working Group"
Request your registration on-site during an AFGWG meeting by providing your name, position, organisation, country, email.
How could governments obtain their own IP addresses?
African government are encouraged to have their own public IP resources directly from AFRINIC to develop their governmental internet networks.
Please find as follows, the process that a government entity must follow to become an AFRINIC resource member and get their own IP addresses: https://afrinic.net/become-member#eligibility
How could governments benefit free assistance from AFRINIC?
Previous Meetings
AFGWG Meetings are by-invite only. The first AfGWG Meeting was held in January 2010 in Ebene, Mauritius. For more information, please contact us via This email address is being protected from spambots. You need JavaScript enabled to view it..
Subsequently, several more meetings have been held back to back with AFRINIC Public Policy Meetings:
22 - Online - 27 May 2021

21 - Luanda, Angola - December 2019

20 - Kampala, Uganda - June 2019

19 - Hammamet, Tunisia- November 2018

18 - Dakar, Senegal - May 2018

17 - Lagos, Nigeria - November 2017

16 - Nairobi, Kenya - June 2017

15 - Mauritius, Volmar - November 2016

14 - Gaborone, Botswana- June 2016

13 - Congo, Pointe Noire - November 2015

12 - Tunis, Tunisia - June 2015

11- Mauritius, Ebene - November 2014

10 - Djibouti, Republic of Djibouti - June 2014

9 - Côte D'Ivoire, Abidjan - November 2013

8 - Zambia, Lusaka - June 2013

7 - Sudan, Khartoum - November 2012

6 - The Gambia, Serekunda – May 2012

5 - Cameroon, Yaoundé – November 2011

4 - Tanzania, Dar es Salaam – June 2011

3 - South Africa, Johannesburg – November 2010

2 - Rwanda, Kigali – June 2010

1 - Mauritius, Ebène - January 2010