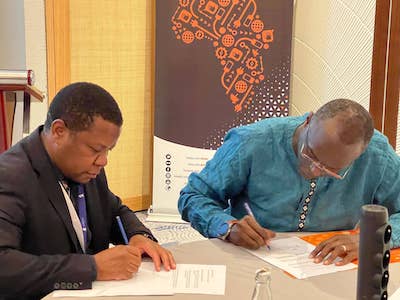 African Network Information Centre (AFRINIC) is one of the five Regional Internet Registries in the world, established to ensure a fair distribution and management of Internet number resources in Africa. Like the other four Regional Internet Registries, AFRINIC is a member of the Number Resources Organization and operates as a non-governmental and not-for-profit member-based organisation.
Since its inception in 2005, AFRINIC has collaborated with a diverse range of organisations to join expertise to catalyse the development of Internet usage and new technologies in Africa. AFRINIC has signed a Memorandum of Understanding with some of these organisations to enter into cooperation or partnership.
However, in other cases, AFRINIC joined the membership of some organisations in which it contributes to matters relevant to the AFRINIC's expertise and the AFRINIC Internet community's benefits.
Among others, AFRINIC signed cooperation agreements with or membership of:
AFRINIC Partners & Supporters  

   

Malawi Communications Regulatory Authority (MACRA)

 

 

 

Packet Clearing House

 

 

 

Centre africain de Recherche en Intelligence Artificielle (CARIA)

 

 

 

University of Cape Town

 

 

 

Internet Society (Africa)

 
 

Ministère de l'Economie Numérique, des Postes et de Transformation Digital du Burkina Faso (MENPTD)

 

 

 

African Telecommunications Union (ATU)

 

 

Commonwealth Telecommunications Organisation (CTO)

 

International Telecommunication Union (ITU)

 

 

 

Meta (Facebook)

 

 

 

Ministère du Numérique et de la digitalisation de la République du Benin

 

 

 

Southern Africa Telecommunications Association

 

 

 

 

L'Autorité de régularisation de la poste et des télécommunications du Congo

 

Smart Africa Secretariat

 

INX-ZA

 
 

Asteroid

 
 

Africa Top Level Domains Organization (AFTLD)

 

 

 

L'ARPCE, Agence de Régulation des Postes et des Communications Électroniques

 

Ghana Internet eXchange (GIX)

 

 

 

African Regional At-Large Organization