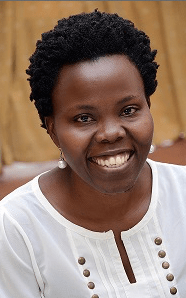 In 2016, AFCHIX won the FIRE Africa Community Development Grant. In this blog post AFCHIX Programs Coordinator Lillian Achom talks about finding out that her organisation had been successful and the impact the US$25,000 grant has already had on its activities.
When I first received the email of good news from the FIRE Africa team stating that AFCHIX had been shortlisted as one of the FIRE Africa Grants beneficiaries, I remember immediately sending the following whatsapp chat message to my bosses, Dorcas Muthoni and Nodumo Dhlamini:
"So, it's true that the things we are doing in schools, for the girls and the general community are recognised and appreciated!!"
Although AFCHIX has previously received grants from other organisations for its activities, this was yet another special moment of excitement! To me, the grants we receive towards supporting our activities are affirmations that there are stakeholders out there who value what we do and see the issues and the potential of women in Tech in Africa!
A Brief History
AFCHIX is a network of women who are passionate about information technology. In 2004, we established a network of women in IT, starting off as Linux Chix Africa and evolving into AFCHIX. We strongly believe in the value of a diverse information technology industry. We are aware that women make up 50% of the population and have important roles of nurturing children and their families. And we believe that investing in women gives higher returns because of their important roles in the society.
The AFCHIX Team in action.
In order for Africa to prosper in a sustainable way, there is need to make full use of the skills and talents of all its citizens, including women, to transform its economies and societies (Fraser-Moleki: 2015). The AFCHIX Project "Boosting the pipeline of Women in Technology through Role Modeling and Information Dissemination" is aimed at increasing the number of African women joining the information technology industry through the proposed awareness campaign.
Capacity Building and Knowledge Share
In November 2016, as part of our grant, I attended the FIRE Africa Capacity Building Training session at the AFRINIC-25 meeting in Mauritius as the Project Representative for AFCHIX. This training was meant for all FIRE Africa 2016 grantees. It was my very first attendance at any of the AFRINIC events but was an eye opener to a lot of current affairs in the ICT industry. I had always followed the conversations about most of the issues that were discussed at this event on mailing lists. It was therefore an awesome opportunity for me to be a part of the proceedings.
I learned a lot during the sessions that I was able to attend. Apart from the training I and the other FIRE Africa Grant and Award recipients received on project management, which equipped us with much knowledge for implementing our projects, I had the opportunity to attend the Plenary sessions which were held from 28 - 30 November 2016. I attended the Newcomers' sessions, where I learned about AFRINIC's background and activities and its sister organizations - the other four Regional Internet Registries (RIRs). I also attended the AFRINIC Special General Members' Meeting (SGMM), where for the very first time, I observed the election process for the AFRINIC Governance Committee (GC) and the voting by the Members for the Special Resolutions 1-20 Bylaws changes. This exposure and the experience of seeing so many active young people with so much knowledge during these sessions was very inspiring.
Gender Imbalance
As an advocate for Women in Technology, one of the things that caught my attention was the very low number of women in attendance at the AFRINIC-25 event – a total of 59 women out of all the 240 delegates. As we alread know, this is a concern but is further evidence that AFCHIX has a lot of work to do and definitely needs support from organizations like AFRINIC to encourage more women to participate in tech matters.
Getting to Work: Role Modelling and Mentoring
We intend to use our FIRE Africa Grant to document high quality stories and videos featuring successful African women in Information Technology. Role modelling is a proven and powerful method for mentoring, teaching and passing on knowledge, skills, and values.
Knowledge share: the audience at an AFCHIX event.
We shall upload these videos online, show them during the AFCHIX annual career guidance and mentorship meetings with students as well as distribute them to schools. Through these stories, it is our hope that at the end of it all, a significant number of schoolgirls and young women across Africa and beyond will have been inspired to join ICT. In the long run, we want to see more women attend important events, such as AFRINIC-25, be a part of the leadership bodies and contribute to key items such as policy development in the Internet industry.
---
About the Author
Lillian Achom is the Progams Coordinator for AFCHIX. She is also the founder and CEO of eHub Uganda Ltd. She has a BSci. Computer Information Systems.
About AFCHIX
AFCHIX Africa was formed in November 2004 by African women and for African women. The aim of AFCHIX is to help build the critical mass of computing skills among African women. Find out more about about AFCHIX.
About FIRE Africa
FIRE Africa provides funds for projects, initiatives, tools and platforms that harness the power of the Internet to empower the local and regional community to solve the region's unique online communications problems. Since we ran our pilot project in 2007 to identify innovative ICT solutions to the challenges faced by local communities, FIRE Africa has grown into a fully-fledged programme that has helped over 30 initiatives in 16 countries over the last eight years.