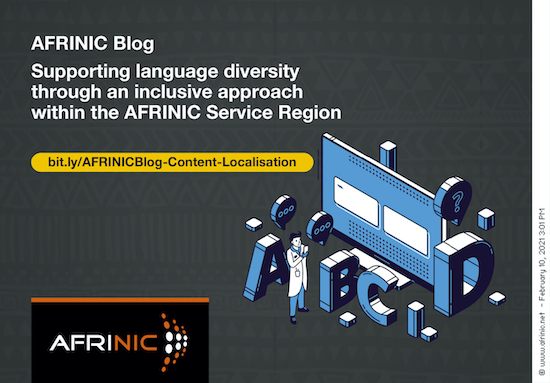 AFRINIC has a diverse membership and community. Even though English is our official language, we have at heart to support the rich diversity and inclusivity of our regional languages instead of being restricted to specific languages only. Along those lines, we have instituted our content localisation programme that aims to have information in several African languages on our website. We have started supporting Arabic and French on our main website (https://afrinic.net) with more languages coming up.
Importance of online content localisation
The digital language divide is very pertinent in our region. Unesco argues that speakers of non-dominant languages need to be able to express themselves online in culturally meaningful ways, and urges governments to develop comprehensive language-related policies that support and facilitate online linguistic diversity and multilingualism. However, translation technologies offer one solution to bridging online language divides. We invite you to read this story that highlights how content localisation is helping businesses in our region grow.
Context story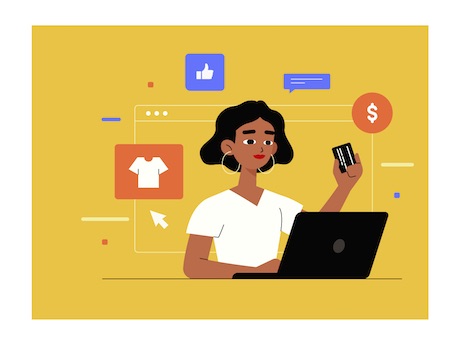 Akinyi is a young agri-entrepreneur from Nairobi who grew up in a family of farmers and planters from a nearby village. Her clients enjoy the freshness of her products and the values she provides, such as offline or online orders, e-payment and real-time delivery tracking services.
Akinyi did not use English as her first language for all the offline operations. Instead, she provided her best interpersonal communication skills using the local languages. That was not just convenient for her customers but also for her suppliers and other business partners who prefer to communicate in the same wording. She has never gone through a formal education system. Due to which her written and spoken English is not as good as one would expect from her successful enterprise. However, her ability to get online and be able to use the online system was crucial for her business.

Following the COVID-19 pandemic lockdown, Akinyi started operating as an essential service provider. Still, she had to close all her physical outlets and rely solely on the online services for 95% of her operations with the customers and partners.
The pandemic had already slashed more than half of Akinyi's clients and to top it the online services were also not picking up. Several of her stock of agri-products were reaching the end of shelf time. Despite stress from all sides, Akinyi and her team continued to operate patiently.
Hence Akinyi's team decided to adapt and localise all their online services. That was done while evaluating her strategies for how to stay relevant and still provide efficiency and incredible values to her customers. The initiative led to a native-first multilingual interface along with several other optimisations.
Over time, Akinyi's effort paid much, and she gradually noticed the online services picking up in terms of orders and payments. While going through the services analytics, she could see how her systems were performing in the native languages compared to English only interface.
As the regional Internet registry for the African region, AFRINIC has taken several steps to reduce the digital divide and promote inclusiveness in our region. Some of the existing initiatives include: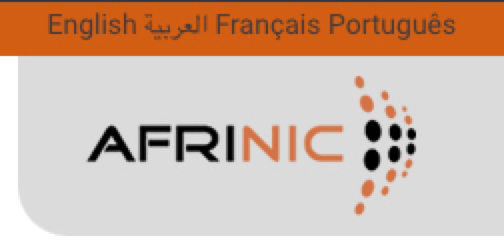 If you are interested in learning further about our experiences in terms of the technology use, challenges and learning curves with this project, watch out for the upcoming parts where we shall see how AFRINIC's content localisation programme will enable our membership and community to participate actively in developing and consuming online content in their local languages.
Part 1 - Supporting language diversity within our community through an inclusive approach - Why it is important
Part 2 - Supporting language diversity within our community through an inclusive approach - How did we do it
Part 3 - Supporting language diversity within our community through an inclusive approach - What was done and what's next (webinar)
---
About the author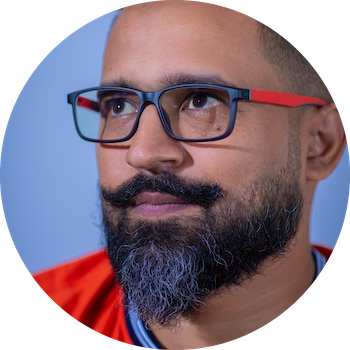 Duksh is the Web Team Lead at AFRINIC, responsible for the management of our websites portfolio. He has been experimenting with large scale content localisation and automation techniques since 2014 and the IGF Best Practice Forum on Creating an Enabling Environment for the Development of Local Content has recognised such an initiative as an important step for capacity building and promoting content localisation in the region.