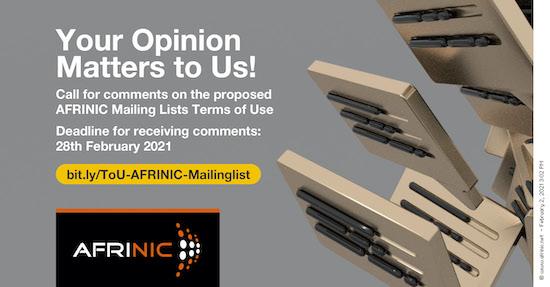 AFRINIC acts as the secretariat and facilitator to support community discussions and the policy development process. To deliver on this mandate, AFRINIC provides a number of inclusive, transparent and open platforms that include public meetings and mailing lists.
Following complaints received from several community members on the virulence of exchanges on AFRINIC mailing lists and the growing number of one-off posts from incognito aliases that the community dubbed as "Internet trolls", we published a blog in September 2020 on the Code of Conduct.
Unfortunately, that did not act as a deterrent and consequently, the subscription of one subscriber to our Community mailing list was revoked following a previous warning issued to the latter.
---
We are also awaiting the feedback from the Governance Committee pertaining to two requests made by the AFRINIC CEO in August 2020:
- Violation of Code of Conduct on the Community mailing list
- Code of Conduct Review

In the meantime, however, AFRINIC has been working on a plan of actions that will allow for verification and authentication of users of its mailing lists in our effort to safeguard the community from being subject to inappropriate behaviours. As a first step, we have developed a new set of AFRINIC Mailing Lists Terms of Use that will govern one's subscription to AFRINIC mailing lists.

In this respect, we hereby invite you to provide us with your valuable feedback on the aforesaid AFRINIC Mailing Lists Terms of Use in the comments section of the page.
We look forward to receiving your feedback by 28 February 2021.
AFRINIC shall consider your input and thereafter, take such actions as it may deem appropriate.
Click here to review and comment on the AFRINIC Mailing Lists Terms of Use