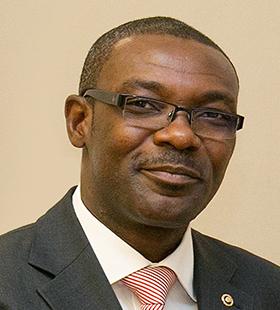 Cybercity, Ebene, Mauritius, 28 September 2019 - We are delighted to learn that Mr Adiel Akplogan, one of the founders of AFRINIC and the first Chief Executive Officer, has been inducted into the 2019 Internet Hall of Fame for his immense contribution to the advancement of the global Internet. Adiel was inducted into the Internet Hall of Fame on Friday, 27 September 2019.
He joins a list of notable individuals like Nii Quaynor (one of the AFRINIC'S founders and current member of Council of Elders), Vint Cerf, Jon Postel, and Al Gore, among others who have been inducted into the Internet Hall of Fame.
Adiel continues to be part of the African Internet community and has been a shining example of what commitment and excellence can achieve. This was clearly demonstrated during his 11 years as the CEO of AFRINIC between 2004 and 2015, helping grow AFRINIC to what it is today. Adiel currently works as the Vice President for Technical engagement at the Internet Corporation for Assigned Names and Numbers (ICANN) where he develops and coordinates the organisation's technical engagement. He has been at ICANN since 2015.
The Internet Hall of Fame (www.internethalloffame.org) is a recognition programme and virtual museum that celebrates the living history of the Internet and the individuals whose extraordinary contributions have made the Internet, its worldwide availability and use, and its transformative nature, possible. The Internet Hall of Fame was launched by the Internet Society in 2012.
On behalf of the AFRINIC Board of Directors and staff, I would like to heartily congratulate our former CEO for this achievement. We are immensely proud of Adiel and will forever be indebted to him for helping steer AFRINIC during its nascent years and for his continued commitment to the growth of Africa Internet ecosystem.
Congratulations once again Adiel: we are proud of him.
Signed
Dr. Christian D. Bope
Chairman, AFRINIC Board of Directors