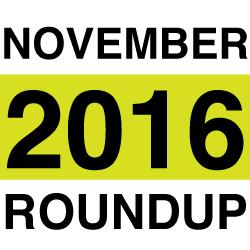 November kept us all busy with the AFRINIC-25 Meeting. Here's a quick wrap up of what we got up to in November.
Monthly Statistics
New members in November: 9
Total new members in 2016: 159
Total members at end November: 1,431
IPv4 address space allocated in November: 108,032/32s
Total IPv4 allocated to date in 2016: 10,699,776 /32s
IPv6 address space allocated in November: 13 (all prefix sizes)
Total IPv6 allocated to date in 2016: 106 (all prefix sizes)
ASNs assigned in November:14
Total ASNs assigned to date in 2016: 158
News and Activities
1 November: The AFRINIC Board appointed Ms. Fiona Asonga as its representative to the NRO NC/ASO AC, for a one year term from 1 January - 31 December 2017. She will be replacing Mr. Mark Elkins who was the Board's appointee during 2015 and 2016, and continues to serve until 31 December 2016. Three community members represent the AFRINIC Service region on the NRO NC/ASO AC. Two are elected by the community and the third is appointed by the AFRINIC Board | read more.


25 - 30 November:


Over 400 people from 47 countries attended AFRINIC-25 in Flic-en-Flac, Mauritius. Attendees gathered to take part in training sessions, workshops, tutorials, policy development discussions, plenary sessions, elections and networking events. Read the comprehensive Meeting Report here.
28 November:

AFRINIC and the Agence Tunisien d'Internet (ATI) signed an MoU to solidify their cooperation and mutual support in furthering IPv6 deployment in Tunisia and North Africa. With this MoU, the two organisations will support each other in terms of IPv6 deployment awareness building, outreach, training and capacity building throughout the region. ATI also becomes AFRINIC's first certi::6 training partner and will administer certification exams locally to ensure that engineers can get their certification within one week at an affordable price | read more.


30 November: The Special Special General Members' Meeting (SGMM) was held during the AFRINIC-25 Meeting.

Special Resolutions:


AFRINIC Members voted to adopt or reject special resolutions for changes to the AFRINIC Bylaws | Results.

Governance Committee Elections:

Elections to appoint people to the AFRINIC Governance Committee were also held during the SGMM. Congratulations to Isatou Jah (The Gambia, Western Africa), Wafa Dahmani (Tunisia, Northern Africa) and Abdalla Omari (Kenya, Eastern Africa), who take up three year terms | Results.
Training Highlights
Abuja, Nigeria
40 people attended the IPv6 & INRM Training Course in Abuja from 1 - 4 November.
Local Host: Nigerian Communications Commission (NCC), and NgREN
Rabat, Morocco
40 people attended the IPv6 & INRM Training Course in Rabat from 7 - 10 November.
Local Host: Agence Nationale de Réglementation des Télécommunications (ANRT)
AFRINIC-25 Meeting, Mauritius
40 people attended the IPv6 Foundation Day Training session.

25 People attended the INRM Training course.

Blog Highlights
We aim to publish a steady stream of useful content on our blog. If you'd like to contribute please take a look at the guidelines here. We'd particularly welcome articles about IPv6 deployment and, if you've deployed IPv6 on your networks, case studies and step-by-step implementation reports. We welcome posts written in French or English.
African governments are keen to participate in Internet Governance
AFRINIC's Mwendwa Kivuva talks about his experience at the 5th African Internet Governance Forum (AfIGF), which AFRINIC sponsored, which took place in Durban, South Africa.

Africa, Let's Embrace v6 Now!
AFRINIC's Head of External Relations, Vymala Thuron, writes about IPv6 in this blog post. She talks about the barriers that are hampering Internet penetration on the continent, what we can do about them and how IPv6 deployment can help.

Who Makes the AFRINIC Policies? You Do!
With the AFRINIC-25 Meeting and its policy development discussion sessions high on the agenda this month, we published this article to help the community understand the importance of participating in the discussions.

AFRINIC and ATI Sign MoU on IPv6 and Certi::6
We find out more about how ATI and AFRINIC are working together to ensure that IPv6 deployment and capacity building picks up the pace in Tunisia and the North Africa region in this blog post. We also talk about AFRINIC's new IPv6 certification platform, Certi::6 and why prioritising IPv6 deployment is crucial for the entire region.