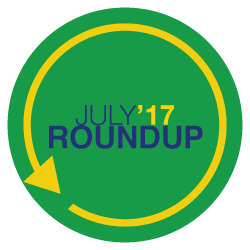 We provide here a quick overview of our activities and news in July 2017.
Monthly Statistics
New members in July: 16

Total members in 2017: 86
IPv4 address space allocated in July: 60,928 /32s
Total IPv4 allocated in 2017: 6,087,168
IPv4 address space available: 0.81 /8s

IPv6 address space prefixes allocated in July: 10
IPv6 address space prefixes allocated in 2017: 40 /32s
ASNs assigned in July: 11
Total ASNs in 2017: 88
Total membership to date: 1506
News and Activities
We announced the Call for FIRE Award and Grants Applications 2017. Read more.
We announced AFRINIC's intention to establish a Policy Development Appeal Committee Read more.
We published our Annual Report 2016. Read more.
Blog Highlights
We published the following blog articles in July.
1. Calling All African Entrepreneurs: FIRE Africa Grants and Awards 2017 Now Open
2. The 21st Century Digital Farmer program
3. Successful Conclusion of AFRINIC Training in Johannesburg South Africa
4. Successful Conclusion of AFRINIC Training in Mali
5. DNSSEC New Root Zone KSK appears on the DNS
7. Using RIPE Atlas TraceMON to discover network topology
8 RIA/AFRINIC Research on Cloud Computing in the Public Sector
Training Highlight
The AFRINIC Training Team concluded training courses in Mali, South Africa and Mozambique. Eighty-two engineers took part in these workshops.
Upcoming training: Registration is currently open for IPv6/INRM Training and Internet Routing Registry Training during iWeek in Durban South Africa and IPv6/INRM Training in Harare Zimbabwe.