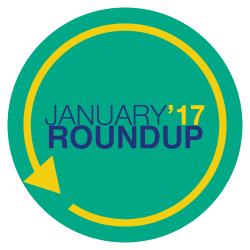 Here's a quick overview of our activities and news in January 2017
Monthly Statistics
New members in January: 10
Total members at year end 2016: 169
Total members to date: 1477
IPv4 address space allocated in January: 567,512 /32s
Total IPv4 allocated to date: 107,674,368/32s
IPv6 address space prefixes allocated in January: 5 (4 /32s and 1 /44)
ASNs assigned in January: 10
Total ASNs to date: 1,468
News and Activities
16 January 2017: AFRINIC announced that its IPv4 inventory will soon reach a point where the "Current Phase" will end and "Exhaustion Phase 1" of the IPv4 Soft Landing Policy will begin. This policy was accepted by the AFRINIC community in 2011 in order to adequately prepare the region for the impending global exhaustion of the IPv4 pool. Find out more about what this means for AFRINIC members and the wider Internet here.


24 January 2017: A team of AFRINIC staff attended the ICANN/Communications Authority of Kenya's Workshop for the Africa Government Advisory Committee. The workshop, themed "Harnessing the Potential of the Africa GAC Members for better Participation in ICANN", was held from 23-24 January 2017. The GAC provides advice to ICANN on issues of public policy and provides insight into instances where there may be an interaction between ICANN's activities or policies and national laws or international agreements within in the region. While in Kenya, the AFRINIC team met with representatives from the Ministry of ICT and other high level stakeholders in preparation for the upcoming Africa Internet Summit 2017 (AIS'17), which will be held in Nairobi from 21 May – 2 June 2017 | read more.
30 January 2017

: AFRINIC and Nigerian Internet Registration Association (NiRA) Academy signed an MoU t

o develop and certify skills in Internet Number Resources Management and IPv6 throughout Nigeria.

AFRINIC is one of only twelve organisations in the world certified by the IPv6 Forum to directly certify engineers. As a valued partner in AFRINIC's new certi::6 programme, NiRA Academy will administer certification exams locally in Nigeria enabling engineers to complete their certification within one week at an affordable price | read more.

Alan Barrett (second from left), AFRINIC CEO, and

Sikiru A. Shehu (centre), Dean

NiRA Academy

, sign the MoU in Nairobi, Kenya.
Blog Highlights
Throughout January, we published a series of guest posts written by our FIRE Africa Grant and Award Winners. Find out more about their trips to Brazil to attend the Seed Alliance Award Ceremony, how the funding they received have already benefited their projects and their plans for the future: So far, so great, as an AFRINIC 2016 Fire Africa Grantee!
Didas Mzirai, founder and CEO of Mucho Mangoes, talks about his experiences at AFRINIC-25 and at the Internet Governance Forum in Brazil.

My FIRE Africa Awards Experience
Caleb Ndaka, Kid's Comp Camp, talks about the opportunity to promote his project to a global audience.

AfChix: Boosting the Pipeline of Women in Technology
Coordinator Lillian Achom talks about finding out that her organisation, AFCHIX, had won a a FIRE Africa Grant and the impact the US$25,000 grant has already had on the team's activities.
Making Connections: All Girls Tech Camps in The Gambia
Alieu Sowe from the Give1Project Gambia talks about his project, All Girls Tech Camp, and his trip to Brazil to attend the Seed Alliance Award Ceremony.
Project Isizwe's Mexican Adventure
Tim Human,

Project Isizwe

- travelled to Mexico to attend the IGF and talks about his trip and what he learned.


Other blog posts in January include:

Training Highlights
Our Training Team is having a well-deserved break while planning and organising the 2017 Training Workshops. Throughout January, the team called for local hosts to facilitate the training workshops in AFRINIC's service region. Our training hosts benefit from an increased exposure locally and regionally and can take advantage of up to 10 places reserved for their own staff or invited guests. Hosting also means that organisations don't have to send their staff to a different location, saving on travel and accommodation costs.
Participants from the INRM and IPv6 Training in Senegal in 2016
Through global recognition on the AFRINIC website, hosts are also recognised as a technical capacity building leader/facilitator in their country as well as for providing support to Internet technology development throughout Africa. Applications to host for 2017 have been closed but please consider hosting in 2018. To further our reach and impact capacity building throughout the AFRINIC service region, we are particularly looking for 2018 hosts in:
Madagascar
Seychelles
Namibia
Comoros
Liberia
Equatorial Guinea
Read more about hosting requirements here.