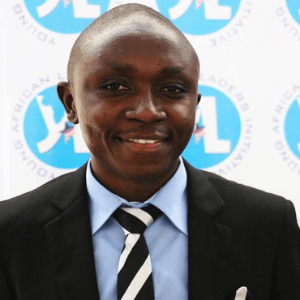 Based in Goma (DRC), Arsene is a 27 year-old social entrepreneur. Arsene manages a humanitarian NGO that specialises in providing education to children affected by war. He is also a Consultant on Internet governance with focus on child online protection and human rights violations affecting the internet. He was one of the fellows of the last AFRINIC meeting (AFRINIC-25) that took place in Mauritius from 25th to 30th November 2016.
Arsene has been an active member of discussions on different topics on Internet governance. It all started in 2011 when he participated as a speaker at the Internet Governance Forum (IGF) on a panel on child online safety. What struck him was the fact that there were very few discussions in the Congo on Internet governance issues and at that IGF 2011, very few sessions giving voice to young people to talk about how the Internet has affected them positively or negatively.
From that moment, a true passion was born as he started his engagement in various discussions that led him to participate in two other IGF meetings so far (IGF Brazil 2015 and IGF Mexico in 2016), either as a panel speaker or a session organizer. He also attended two ICANN meetings (in Los Angeles and Marrakech) and was an AFRINIC-25 fellow in 2016. From all of that, he has become an Internet activist, a consultant researcher on subjects such as violations of human rights online such as online freedom of expression, Internet shutdowns, censorship, surveillance and an educator on child online safety.
"Besides awareness-raising and capacity building programs, stakeholder engagement on Internet governance issues and the evolution of technologies at the global level, I am also interested in current issues facing the DRC in the area of technologies."
Arsene's vision is to bring together activists from both the global community and his country D.R.C in order to discuss Internet-related issues the country is facing. As he explains in this blog post, there is a correlation between human rights outside the internet and Internet users rights. Thus, his activities are mostly research and consultancy work aiming at educating communities on various human rights violations happening on the Internet and how they can behave when their rights are violated.
"With activists around the world, we develop techniques and tools to help important actors to circumvent some of these violations. My target for 2017 is to be able to map and identify all the resource persons already working or interested in these issues so that we can build a force that will revolutionize the digital economy in Africa."
Arsene firmly believes that it is very important that stakeholders in Africa (including civil society actors, governments, universities, the private sector) work together, hand in hand, in shaping the future of the continent.
"Most Internet users in Africa face the same challenges ranging from the unavailability of adequate infrastructure leading to a very low Internet penetration rate; the challenges that legislators face in the creation of appropriate legislations taking into account the evolution of technologies and more. In the years to come, I see myself as an important actor who will help and stimulate the evolution of technologies in my country and on the continent".