JOB DESCRIPTION
Department: IT & Engineering
Unit: Infrastructure
Job title: Junior Systems Engineer
1. Job Background
Job Purpose/Mission of Role

You participate in the installation, monitoring and management of server, storage and backup systems. You provide technical support to AFRINIC staff.

You interact with IT services and equipment vendors on behalf of the Unit.

You assist the Systems Engineers in various aspects of maintaining AFRINIC's infrastructure and networks.

Reports to

Infrastructure Unit Manager / Head of IT & Engineering

Number of Direct Reports

None

Qualifications/Work Experience

A degree in Information Technology, Computer Engineering or related field, or some related technical coursework or work experience in a related field.
2. Reporting Structure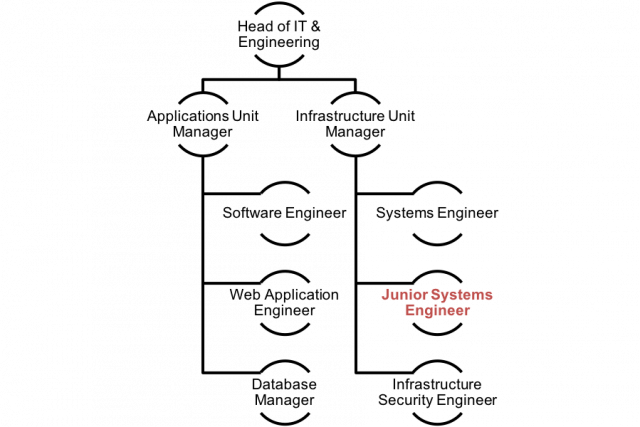 3. Key Responsibilities
Title

Description

Weight

IT and System Engineering Support and Maintenance

Monitor server and storage systems for hardware issues, capacity and system performance.
Monitor and manage the backup system to ensure data integrity.
Restore data for users and undertake test restores on a regular basis.
Assist in managing directory services.
Configure, install and update staff workstations.
Configure user accounts.
Set up and maintain mailing lists and email accounts.
Assist with VPN maintenance and profile management.
Help plan and implement system upgrades and maintenance fixes.
Continuously maintain all documentation.

70%

Customer Service

Takes a genuine interest in customers and demonstrate urgency, energy and enthusiasm in satisfying their needs
Monitor help desk system queue for incoming requests.
Prioritize and respond to help desk tickets and provide resolution in a timely manner.
Resolves problems without delay and by implementing measures to prevent recurrence
Seeks to understand the complex dynamics of the customer issue
Is able to effectively explain the issues and have realistic estimation about the time work will take
Keeps customer informed by providing update on progress/decisions
Involves others who can assist with the process and escalates any issues where required
Delivers on commitments and promises (timely, accurate and complete)

20%

General Responsibilities

Ensure that all processes are clearly documented as per ISO 9001 standards
Perform other duties as required and assigned by the CEO, Infrastructure Unit Manager and Head of ITE.

10%
4. Competencies
Technical

Working knowledge of UNIX/Linux, Windows and Mac based operating systems.
Familiarity with virtualisation technologies (e.g. VMware, KVM).
Knowledge of email software and mailing-lists.
IT professional certifications a plus.
Experience working in a helpdesk / desktop support a plus.
Some understanding of networking and TCP/IP.
Exposure to IPv6 networks or services a plus.
Some understanding of computer hardware.
Additional network technology experience or Internet eco-system exposure a plus.

Behavioural

AFRINIC's Behavioural Competencies as applicable to all staff and as revised from time to time.
Applications:
If you wish to apply for this position, please send a letter of motivation accompanied by your CV, both in English, by email to This email address is being protected from spambots. You need JavaScript enabled to view it. , putting as email subject title the job reference;
afjob-JSYSE-20180522
APPLICATION DEADLINE: 30th June 2018
Start date: As soon as possible
Interviews will be held at AFRINIC office in Ebène or telephone interviews will be conducted for candidates outside Mauritius.
AFRINIC reserves the right to call only the best qualified candidates for an interview and not to make any appointment following this advertisement.