On 21st July 2022, AFRINIC organised a finance webinar with its resource members. The main focus of the webinar was to give members further explanation on questions raised on the financials during the last AGMM. Discussions were also focused on the non-adoption of the Audited Financial Statements for the year ending 31 December 2021. One of the questions that AFRINIC believed needed more clarity to the members was the difference of USD 16K in the finance report published on the website and the audited financial statements in the strategic cash reserves section.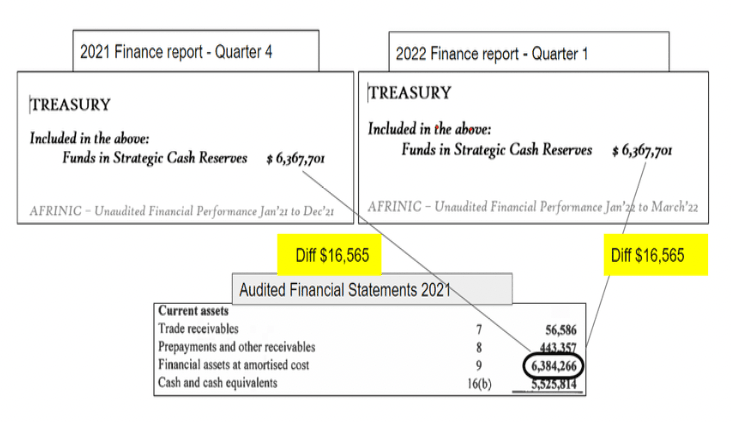 The difference in the above table represents accrued interest adjustment provided by the auditors after completing the audit exercise.
The webinar was attended by 62 AFRINIC Resource Members from 62 Organizations in 28 countries.
Image showing the Webinar statistics
Hosted by the AFRINIC Finance Team, the webinar provided insights on the AFRINIC accounts that were audited by the company's auditors BDO Mauritius and further explained the discrepancies between the unaudited finance report published on the website and the Audited Financial Statements that were raised by Members, during the AGMM and on the AFRINIC mailing lists conveying the possible impacts of the unadopted financials to AFRINIC.
A series of polls took place to engage further with the Members present in the webinar. From these polls, we noted:
Only 22 members in the webinar interacted with the AFRINIC 2021 Financials.
Out of the members present in the webinar, only six members participated in the previous AGMM.
Not all members in the webinar were familiar with voting on the MyAFRINIC Platform.
From the webinar, the members expressed satisfaction with the explanation of the Financial Audits given.
In light of the above, we prepared a short video that guides how Resource Members can vote on the MyAFRINIC Platform.
Below are a few links that you could find helpful if you missed or need references for the webinar.
AFRINIC would like to thank all the members who participated in the AFRINIC Finance webinar. We shall inform you of other upcoming webinars on our key activities during the year.