The Stakeholder Development Officer will be responsible for assisting AFRINIC develop and improve its relations with all its Stakeholders as well as promoting the usage of its services and expertise on the African continent.
---
1) Job Background
(A) Job Purpose/Mission of Role
This role is responsible for assisting AFRINIC to develop and improve its relations with all its Stakeholders as well as promoting the usage of its services and expertise on the African continent.
The Stakeholder Development Officer (SDO) will inform, communicate, consult, and engage with AFRINIC's members and stakeholders. He/She will identify existing barriers to the effective engagement of our key stakeholders and develop communication and engagement initiatives that enable increased members' satisfaction. This role will also raise the profile of AFRINIC's services to our key stakeholders.
The role will also work on diversifying AFRINIC's membership portfolio and categories as well as expanding partnerships and collaboration with other stakeholders.
The SDO will liaise with other services across the entire organisation to foster coordinated and impactful stakeholder engagement initiatives. The role will nurture collaboration across the AFRINIC's Stakeholder Engagement Team and other departments to ensure excellence in AFRINIC external representations.
Reports to Stakeholder Development Manager
Number of Direct Reports: N/A
(B) Qualifications and Work Experience
Minimum Bachelor's degree (OR equivalent of Tertiary qualifications in public relations and/or internet related fields / Law / Political Science / Social Sciences or International Relations or equivalent work experience.)
Minimum 3 years experience in a related role, with international exposure.
Superior interpersonal and communication skills.
Superior written and spoken English skills.
Speaking French and or Arabic would be a definite advantage.
2) Reporting Structure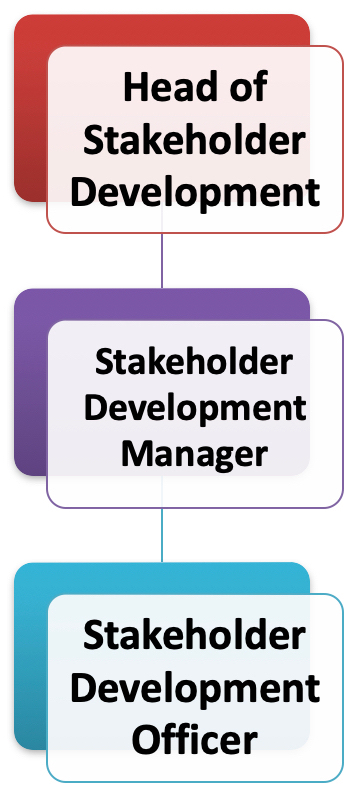 Reporting Structure of Stakeholder Development Officer


3) Key Responsibilities
Title
Description
Weight
Engagement with
AFRINIC
Stakeholders

Establishes conducive relationships with AFRINIC's stakeholders (Members, Community and Partners)
Maintains those relationships once established through regular communication activities as identified with each stakeholder.
Provides proactive support and assistance to AFRINIC stakeholders.
Works with the Communications team or others to inform the community of AFRINIC services and other events of interest, and other topics of interest.
Coordinates plans for AFRINIC's members outreach in cooperation with other departments or functions.
Analyzes various key players in the Internet ecosystem and make recommendations to the Head of Stakeholder Engagement on how to best deal with them for the benefit of AFRINIC.
Engage stakeholders through presentations at meetings, expos, events on AFRINIC's services and programs.

30%
Membership
Development

Provides the most meaningful opportunities for the achievement of AFRINIC membership growth goals.
Develops and fosters positive relationships with potential members on behalf of AFRINIC.
Inform potential members of AFRINIC's value-added business and/or service opportunities.
Identifies and maps membership categories across the organisation's change projects.
Maximizes members' opportunities to say what they want and to provide information and feedback.
Identifies and where possible, understand members' issues, interests, aspirations, and concerns to better define what matters most.

30%
Reporting
Information

Provides feedback and information to Stakeholder Development Team on environmental developments and issues and provides guidance on appropriate messaging.
Prepare the department Quarterly and Annual Stakeholder Development Reports.

20%
General
Responsibilities

Represents AFRINIC as a spokesperson as and when required.
Ensure that all processes are clearly documented as per ISO 9001 standards
Encourages intelligence sharing between staff and units and disseminates information appropriately.
Contributes to Team coordination
Perform other duties as required and assigned by the Head of Stakeholder Development

20%
4) Competencies
Technical
Good understanding of the nomenclature, the ecosystem and the operating culture of the Internet especially in developing countries.
The ability to communicate in one or more languages other than English is highly desirable.
Superior interpersonal and communication skills
Superior written and spoken English skills
Understanding of, or experience with, international treaty organisations/governments/Internet organisations across a range of geographic regions
Political awareness, cultural sensitivity, and skills in diplomatic communications
Behavioural
AFRINIC's Behavioural Competencies as applicable and as revised from time to time.
5) AFRINIC Expectations
In carrying out essential duties, an individual should commit to AFRINIC's mission and values, working as one team to deliver service excellence.
This includes but is not limited to:
Demonstrates a shared commitment to fulfilling team and organisational goals co-operatively
Strives for excellence and focuses on continuously improving outcomes
Displays professionalism through competence, high standards, self-management, and a service ethic
Displays integrity through ethical behaviour, constructive contribution, and use of appropriate channels
Makes responsible use of member funds through efficient use of time, funds, and resources
Models respect by being punctual, reliable, prepared, courteous, and responsive
6) Application
If you wish to apply for this position, please send a letter of motivation and your CV, both in English, and copies of all supporting documents by email to This email address is being protected from spambots. You need JavaScript enabled to view it. or the following address:
Head of People & Productivity, 11th Floor, Standard Chartered Tower, Ebène Cybercity, Ebène Mauritius
Please indicate in the subject title of your email the job reference only: AFJOB-SDO-20220112

APPLICATION DEADLINE: 26 January 2022

Start date: As soon as possible
Final interviews of shortlisted candidates will be held at the AFRINIC office in Ebène, Mauritius, when possible; otherwise, interviews will be conducted remotely. The shortlist selection will be based on the dossiers of applicants and telephone/remote interviews of candidates with the desired profile.
AFRINIC reserves the right to call only the best-qualified candidates for an interview and not make an appointment following this advertisement.
Applicants who are not contacted for an interview within 15 days after the closing date should consider their applications unsuccessful.