The Systems Engineer will be responsible for all activities necessary to properly run, maintain and improve all AFRINIC's systems that relate to the provisioning and support of member services.
---
1) Job Background
(A) Job Purpose/Mission of Role
Reporting to the Head of IT & Security, you will be responsible for all activities necessary to properly run, maintain and improve all AFRINIC's systems that relate to the provisioning and support of member services.
Proactive as well as reactive, you within the Unit are responsible for prioritizing, responding and resolving problems. You will define and monitor AFRINIC's computing policies, plan and implement system upgrades and maintenance fixes.
You must be organized, personable and have keen attention to detail and shall provide the IUM with pertinent information necessary to aid and manage AFRINIC's operations.
Reports to Head of IT & Security
Number of Direct Reports: N/A
(B) Qualifications and Work Experience
A degree in Information Technology, Computer Engineering or related field, or an equivalent amount of related technical coursework and work experience in a related field.
Minimum of 3 years of job-related experience in a similar role.
A Master's degree in engineering will be a plus.
2) Reporting Structure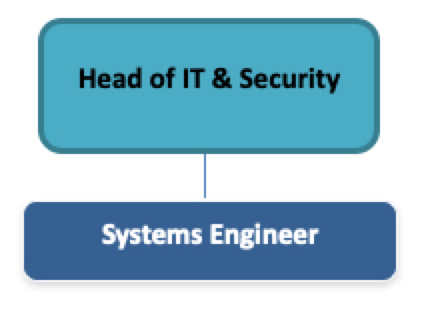 3) Key Responsibilities
Title
Description
Weight
Infrastructure
Maintenance

Monitor system performance across AFRNIC's distributed network. Identifies and makes corrections or recommendations to resolve problems, or improve performance;
Install, configure, test and maintain operating systems, application software, system management tools and network;
Establish the networking environment by designing system configuration, directing system installation and defining, documenting and enforcing system standards;
Performs preventive maintenance. Tunes the system to ensure optimum system performance by monitoring key performance indicators such as but not limited to: disk space capacity; evaluating data file distribution and disk usage to improve I/O operations, and analysing and repairing disk and data files;
Proactively ensure the highest levels of systems, network and infrastructure availability in general. Maintains critical systems uptime to 99.99%;
Respond to incidents after-hours.
Maintain security, backup, and redundancy strategies.
Completes and maintains all relevant systems documentation and administration paperwork

30%
Infrastructure
Operation

Establishes, manages, and supervises best practice backup storage processes from backup to recovery and managing failover for these;
Monitor and test application performance for potential bottlenecks, identify possible solutions and work with developers to implement those fixes.
Write and maintain custom scripts or automation to increase system efficiency and lower the human intervention time on any tasks.
Participate in the design of information and operational support systems.
Participate in system analysis, requirements analysis, software review, system risk analysis, software reliability analysis, testing and quality assurance
Maximize network performance by monitoring performance, troubleshooting network problems and outages, scheduling upgrades and collaborating on network optimization
Establishes and documents all system and network security practices and policies. Monitors system security. Reports all security violations to the IUM;

20%
Project
Management


Develops and deploys systems
Write/review IT procedures in compliance with best practices.
Perform project management tasks, including overseeing all preparation, data collection, performance and completion of critical projects.

20%
IT
Support

Takes a genuine interest in customers and demonstrate urgency, energy and enthusiasm in satisfying their needs
Seeks to understand the complex dynamics of the customer issue, is able to effectively explain the issues and have realistic estimation about the time work will take
Provide technical direction to more junior IT support staff.
Train and support AFRINIC staff and members on systems, applications and offer technical expertise as necessary.
Provide technical support for AFRINIC's meetings and events.
Provide in house technical support as may be required
Support systems and infrastructure's security. Assists users in solving operating problems;

20%
General
Responsibilities

Ensure that all processes are clearly documented as per ISO 9001 standards
Perform other duties as required and assigned by the Head of IT & Engineering & Security and the management.

10%
4) Competencies
Technical
Conversant experience in installing, configuring and troubleshooting UNIX/Linux based environments;
Good networking knowledge (OSI network layers, TCP/IP), Conversant with internet protocol such as IPv4 and IPv6;
Ability to support network protocols such as TCP, UDP, SMTP, IMAP, FTP and any other one as deemed necessary by IUM;
Working experience managing vendor networking devices (routers, switches, firewalls);
Experience with virtualization and/or containerization;
Experience in systems monitoring and reporting;
Ability to write, edit and maintain UNIX shell scripts;
Understanding of support tools, techniques and how technology is used to provide IT services;
Understanding of computer hardware
Proven experience in network and server troubleshooting.
Familiarity with web related technologies (Web applications, Web Services, Service Oriented Architectures) and of web related protocols.
Good knowledge of DNS, VoIP, encryption technologies and standards, VPNs, VLANs, subnets, BGP and other network routing methods.
Experience with automation software, system security and vulnerability management tools an added value.
Behavioural
AFRINIC's Behavioural Competencies as applicable and as revised from time to time.
5) AFRINIC Expectations
In carrying out essential duties, an individual should commit to AFRINIC's mission and values, working as one team to deliver service excellence.
This includes but is not limited to:
Demonstrates a shared commitment to fulfilling team and organisational goals co-operatively
Strives for excellence and focuses on continuously improving outcomes
Displays professionalism through competence, high standards, self-management, and a service ethic
Displays integrity through ethical behaviour, constructive contribution, and use of appropriate channels
Makes responsible use of member funds through efficient use of time, funds, and resources
Models respect by being punctual, reliable, prepared, courteous, and responsive
6) Application
If you wish to apply for this position, please send a letter of motivation and your CV, both in English, and copies of all supporting documents by email to This email address is being protected from spambots. You need JavaScript enabled to view it. or the following address:
Head of People & Productivity, 11th Floor, Standard Chartered Tower, Ebène Cybercity, Ebène Mauritius
Please indicate in the subject title of your email the job reference only: AFJOB-SYE-20211126
APPLICATION DEADLINE: 10 D

ecember

2021
Start date: As soon as possible
Final interviews of shortlisted candidates will be held at the AFRINIC office in Ebène, Mauritius, when possible; otherwise, interviews will be conducted remotely. The shortlist selection will be based on the dossiers of applicants and telephone/remote interviews of candidates with the desired profile.
AFRINIC reserves the right to call only the best-qualified candidates for an interview and not make an appointment following this advertisement.
Applicants who are not contacted for an interview within 15 days after the closing date should consider their applications unsuccessful.