The Internal auditor is an independent, objective assurance and consulting role designed to add value and improve the organisation's operations.
---
1) Job Background
(A) Job Purpose/Mission of Role
The Internal auditor is an independent, objective assurance and consulting role designed to add value and improve the organisation's operations. The incumbent would help AFRINIC accomplish its objectives by bringing a systematic and disciplined approach to evaluate and improve the efficiency of risk management, control, and governance processes as well as assessing all the activities of the organisation and giving appropriate recommendations for improvement measures to be adopted.
The internal auditor's mission would be to:
Objectively review the organisation's business processes
Design and implement risk management procedures
Protect against fraud and theft of the organisation's assets
Ensure that the organisation is complying with relevant laws and statutes
Make recommendations on how to improve internal controls and governance processes
Identify cost centres and make recommendations on the efficiency of utilisation of AFRINIC's financial resources.
Reports to Board of Directors (Audit Committee) and/or the CEO
Number of Direct Reports: N/A
(B) Qualifications and Work Experience
Proven working experience as Internal Auditor or Senior Auditor with proven, appropriate certification by an applicable regulatory and/or industry bodies;
Ability to speak and write fluently in English (any other regional language will be an added advantage);
ACCA qualified or Master's degree in Finance & Accounting or in relevant field
Ability to manipulate large amounts of data and to compile and present detailed reports to management, executive and Board of Directors;
Proven knowledge of applicable auditing standards and procedures, laws, rules and regulations with specific emphasis on those related to Mauritius system;
Ability to exhibit independence, objectivity, soft skills, including the ability to explain complex topics to different audiences including those with no audit experience;
Ability to guide management's decisions as may be required and applicable
Ability to use the internal audit function to support various sections within the organisation, such as the legal departments, HR and the Board.
Unquestioned personal integrity with strong ethics and values consistent with AFRINIC's culture
Ability to stand firm on difficult issues when required
Strong analytical capability
Displays awareness of the need for confidentially in sensitive matters
Fully computer literate
Enjoys working in a team environment
Good interpersonal skills.
Strong verbal and written skills.
Good knowledge of working on accounting software.
2) Reporting Structure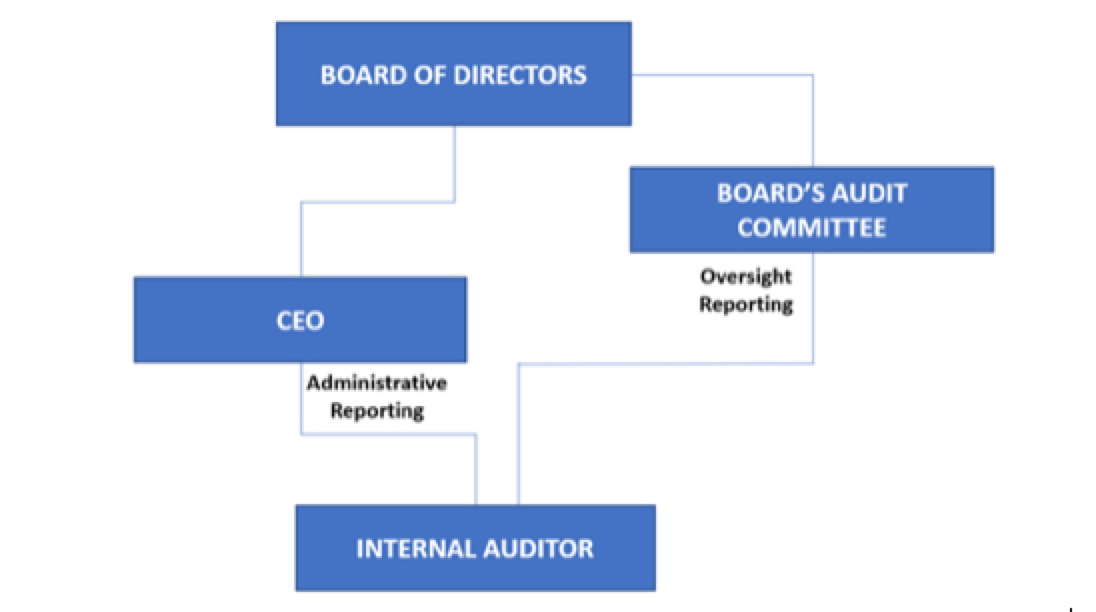 3) Key Responsibilities
Title
Description
Weight
Perform full audit cycle from
Top Management to all
divisions of the company

Perform and control the full audit cycle including:

Risk management and control (including the identification of loopholes and recommendations on risk aversion measures);
Compliance with all applicable regulations;
Achievement or maintenance of relevant standards and certifications;
Asset management;
Human resources;
Information Technology; and
Projects and programs.
other functional areas at AFRINIC

Develop and follow annual plans for conducting audit activities for approval by the Board of Directors

50%
Reporting, Recommendations and Advice

Evaluate internal procedures, recommend improvements, and report to the Board of Directors;
Act as an objective source of independent advice, to ensure validity and adequacy of goal achievement, to the management and the Board of Directors;
Prepare and present progress and annual reports that reflect audit findings mitigation plans; and
Submit reports of findings to Management and the Board of Directors

25%
Risk Management and the efficient
use of AFRINIC's resources

Identify loopholes and recommend risk aversion measures;
Develop risk management controls and contingency plans;
Evaluate cost centres within the organisation and recommend the efficient use of AFRINIC's resources.

20%
General Responsibilities

Engage in continuous knowledge development regarding sector rules, regulations, best practices, tools, techniques and performance standards for the benefit of the organisation;
Ensure that all processes are documented as per ISO 9001 standards;
Perform other related duties as required and assigned by the CEO, COO, or any other person assigned by Management.

10%
4) Competencies
Technical
Ability to effectively lead projects /services organised around a complex array of programs with the ability to leverage strengths across program areas; excellent project management skills.
Ability to find ways to enhance operating efficiency and effectiveness through results and an analytical mind that foster performance improvement.
Understanding of the nomenclature, the ecosystem and the operating culture of the Internet especially in developing countries.
Good understanding of the statutory requirements of the Mauritian Legislations, and ability to maintain systems and procedures to guarantee proper adherence.
Good understanding of International Accounting Standards and Financial Reporting Standards.
Understanding of human resources functions.
Analytic and decisive decision-maker with the ability to prioritise and communicate to staff key objectives and tactics necessary to achieve project goals.
Knowledge of Microsoft Office Tools and Applications.
Knowledge of Sage Pastel.
Knowledge of the functioning of Accounting Softwares.
Behavioural
AFRINIC's Behavioural Competencies as applicable and as revised from time to time.
5) AFRINIC Expectations
In carrying out essential duties, an individual should commit to AFRINIC's mission and values, working as one team to deliver service excellence.
This includes but is not limited to:
Demonstrates a shared commitment to fulfilling team and organisational goals co-operatively
Strives for excellence and focuses on continuously improving outcomes
Displays professionalism through competence, high standards, self-management, and a service ethic
Displays integrity through ethical behaviour, constructive contribution, and use of appropriate channels
Makes responsible use of member funds through efficient use of time, funds, and resources
Models respect by being punctual, reliable, prepared, courteous, and responsive
6) Application
If you wish to apply for this position, please send a letter of motivation and your CV, both in English, and copies of all supporting documents by email to This email address is being protected from spambots. You need JavaScript enabled to view it. or the following address:
Head of People & Productivity, 11th Floor, Standard Chartered Tower, Ebène Cybercity, Ebène Mauritius
Please indicate in the subject title of your email the job reference only: afjob-IA-20211124

APPLICATION DEADLINE: 8 December 2021

Start date: As soon as possible
Final interviews of shortlisted candidates will be held at the AFRINIC office in Ebène, Mauritius, when possible; otherwise, interviews will be conducted remotely. The shortlist selection will be based on the dossiers of applicants and telephone/remote interviews of candidates with the desired profile.
AFRINIC reserves the right to call only the best-qualified candidates for an interview and not make an appointment following this advertisement.
Applicants who are not contacted for an interview within 15 days after the closing date should consider their applications unsuccessful.