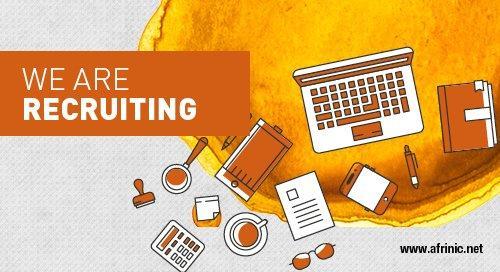 The Project Manager (PM) will be responsible for bringing specialised skills and knowledge in managing the AFRINIC's Research programmes and projects. She/he will assist AFRINIC in raising the profile of the different programmes under the Research and Innovation Department including among others, Fund For Internet research and Education (FIRE), AFRINIC Research Collaboration (ARC) and Africa Internet Measurement (AIM) programmes.
Additionally, she/he will be responsible for the capacity building of programme stakeholders and beneficiaries and will also manage the communication aspects through related social media and information portal.
In general, the PM will be responsible for developing an agile and clear path in terms of how to find alternative funding for AFRINIC's development activities like research, training and other related projects.
She/he must be organised, personable and have a keen attention to detail and shall provide oversight and leadership in executing projects from planning to completion while making sure all the aims of the project are met.
If you wish to apply for this position, please send a letter of motivation and your CV, both in English, by email to This email address is being protected from spambots. You need JavaScript enabled to view it., or to the following address:
Human Resources & Administration Manager
11th Floor, Standard Chartered Tower,
Ebène Cybercity,
Ebène
Mauritius
Please indicate in the subject title of your email the job reference only: afjob-PM-20191126
APPLICATION DEADLINE: 15 December 2019
Start date: As soon as possible
Interviews will be held at AFRINIC office in Ebène and telephone interviews will be conducted for candidates outside Mauritius.
AFRINIC reserves the right to call only the best-qualified candidates for an interview and not to make any appointment following this advertisement.
---
Job Background
Reporting Structure
Job Summary

Click image to enlarge

The project manager must ensure that all of the above and/or other negotiations are done in close collaboration or after having obtained prior approval of the HOD.

Reports to HOD (Research and Innovation Manager)
Number of Direct Reports: None (however will supervise project teams as assigned)
Qualifications/ Work Experience:

Minimum BS/BA degree with a minimum of 5 years of experience (and a least 4 in a Technology-driven Organisation)
A Masters in Business Administration or equivalent will be a plus
A proven track record in senior programme/ project management
Experience with grant proposal writing and solicitations
Ability to communicate in one or more languages other than English is highly desirable.
Key Responsibilities & Competencies
Key Responsibilities
Title
Description
Weight
Project Management and promotion

Manage and administer the AFRINIC Research programmes and related activities with the strict collaboration of the HOD.
Provide assistance/consultation/ project management on specific activities and on Project Basis as and when assigned by the HOD such as:

Develop AFRINIC Research Programmes and products
Support the development of a proper framework to improve Internal Communications.
Support the development and marketing of Research programmes.
Serve as Project Lead or Project Manager via management of end to end system life cycle development of major projects.

Help shape and administer the advent of other projects, processes, and related activities in consultation with the HOD.
Identify opportunities to promote the FIRE grant project/other projects within Africa including preparing press releases, brochures and promotional materials, websites and in various media.
Manage incoming and outgoing Projects' correspondence, including postal mail and mailing lists, websites related to the projects.
Keep an up-to-date database of projects and their status running or supported under the R & I programmes namely: AFRINIC Research Collaboration (ARC), Africa Internet Measurement (AIM) and the FIRE programmes).
Keep all relevant programme websites up to date with relevant information, including the application process, the winners, and the status of projects supported.
Develop working procedures (standard operating procedures) to optimise productivity and ensure good working relationships with AFRINIC partners on projects.
Develop Performance Standards in a view to better manage the projects
Develop a detailed plan for event logistics and costing
Coordinate travel arrangement for grantees within the AFRINIC travel framework as well as accommodation and venue facilities
Manage appropriate meeting and event-related correspondence
Develop an event programme and agenda for workshops
Work with related staff at other RIRs to support coordination activity as required
Develop and implement cooperation and sponsorship opportunities for R & I managed projects.
Develop costing proposals for projects, perform a risk analysis, and manage change control.
Develop and manage workshops for the grant projects
Conduct comprehensive cost/benefit analysis and prepare business cases for new and existing development projects.
Ability and willingness to represent AFRINIC in accordance with corporate guidelines.

30%
Solicit and Manage Sponsors

Develop and implement cooperation and sponsorship opportunities with the HOD for AFRINIC Research programmes.
Seek funding, develop cooperation projects/initiative with partners, plan and monitor expenditure in accordance with a prescribed budget under the strict supervision of the HOD.
Coordinate with external and internal stakeholders grant proposal writing activities.

30%
Reporting and Accounting

Reporting as required from the start, during and at the completion of projects, including reports for AFRINIC management, reports for the Board, reports for the public, reports for donors.
Organise and support partners and grants committee meetings
Keep AFRINIC partners informed of all relevant developments
Work with relevant staff to support the Seed Alliance coordination activity
Keep track and manage all databases related to the FIRE programme and other AFRINIC Research programmes/projects
Manage all ledgers with regards to project funding and other related expenses

20%
Organise fair and transparent management of the grant, fellowship and awards

Document and update processes for selecting, deploying and managing projects
Solicit reviewers to assist in the selection and evaluation of projects
Manage the selection and review process
Keep records of the selection process from start to end

10%
General Responsibilities

Ensure that all listed responsibilities and tasks are done in close collaboration or after having obtained prior approval of the HOD
Ensure that all processes are clearly documented as per ISO 9001 standards
Perform other duties as required and assigned by the CEO and/or the HOD

10%
AFRINIC Expectations
In carrying out essential duties, an individual should demonstrate a commitment to AFRINIC's mission and values, working as one team towards delivering excellence in service.
This includes but is not limited to:
Demonstrates a shared commitment to fulfilling the team and organisational goals co-operatively
Strives for excellence and focuses on continuously improving outcomes
Displays professionalism through competence, high standards, self-management and a service ethic
Displays integrity through ethical behaviour, constructive contribution, and use of appropriate channels
Makes responsible use of member funds through efficient use of time, funds and resources
Models respect by being punctual, reliable, prepared, courteous, and responsive